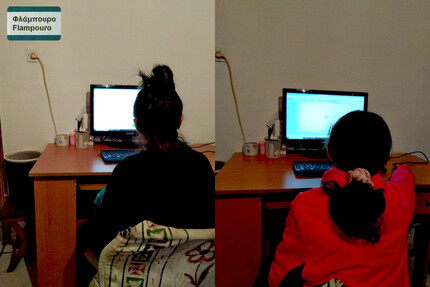 The COVID-19 pandemic has dramatically brought to the fore the need for internet access, for all the residents of our villages, professionals and students alike. In the Sarantaporo.gr Community Network community we consider internet access a human right and we strive daily to maintain and improve our infrastructure, which provides all residents of 11 Elassona Municipality villages with open Internet access.
Letters such as those sent to us today by these students make us proud of our work and motivate us to continue struggling for equal access to communication, knowledge and digital citizenship.
Two students from the village of Karya, Elassona, have moved to Flampouro village so that they can use the Sarantaporo.gr Wireless Community Network for their distance learning in the midst of the corona virus pandemic. They have sent us a letter, where they recount their experience.
A parent from the village of Pythio Elassona, also sends us his appreciation for the operation of the Sarantaporo.gr Wireless Community Network in his village and a photo of his son, while attending classes connected to our wireless community network.